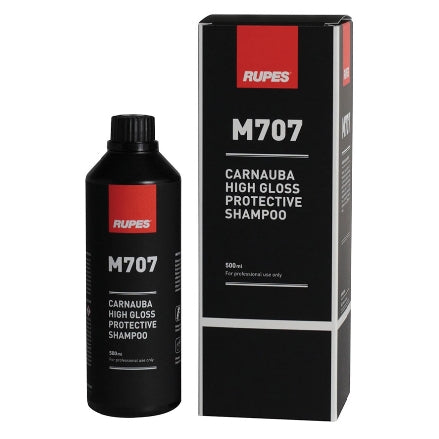 RUPES M707 Carnauba High Gloss Protective Shampoo, 9.CCM707

Product Overview:
RUPES M707 Carnauba Wax High Gloss Protective Shampoo (9.CCM707) is a high quality maintenance vehicle wash shampoo used to remove dirt and to provide light protection to paintwork all in one step.
M707 contains genuine carnauba wax that aids in surface lubrication and provides a supplemental layer of protection to paint work all in one step. 
To use, begin by rinsing the vehicle thoroughly to remove coarse dirt and debris. Add 6 capfuls of M707 to a bucket of water (~2.5 gal) and allow the product to dissolve. Using a quality wash media, wash each panel then rinse the vehicle until clean and no soap residue remains. Dry surface with a soft drying towel. Always wash vehicles out of direct sunlight and do not allow product to dry on the surface. 
Package contents include 1 500ml (16.9oz) bottle.
Features and Benefits:
High quality maintenance 

vehicle 

wash shampoo used to remove dirt and to provide light protection to paintwork all in one step

Contains genuine carnauba wax that aids in surface lubrication and provides a supplemental layer of protection to paint work all in one step

Easy to use, simply add to water to dissolve and then wash vehicle
---
We Also Recommend
---