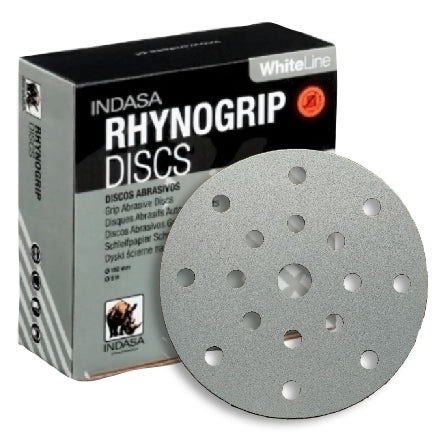 Indasa 6" Rhynogrip WhiteLine 17-Hole Vacuum Sanding Discs (fits Festool), 69-17 Series

Product Overview:
Indasa 6" Rhynogrip WhiteLine 17-Hole (fits Festool) Vacuum Sanding Discs (69-17 Series) are production grade abrasives that offer the best balance of productivity, quality finish and cost effectiveness. 17-hole pattern is designed to fit on new Festool brand vacuum hole pattern backup pads and provides excellent dust extraction.
WhiteLine is the best option when a very high initial cut and lower costs are desired and a great choice for sanding and finishing fillers, stoppers, composite materials, soft woods, wood coatings, walls and dry wall.
WhiteLine features aluminum oxide grain and a special lubricant stearate no-transfer coating to resist clogging and pilling; the result is a high performance abrasive system that offers extremely high initial cutting power, high stock removal and good surface finish. 
6" size grip discs available in a grit range from 40 to 600. Sold 50 discs for all grits. 
** 500 Grit is a custom order. Please allow 3-4 business days**
Application Suggestions:
Dry sanding 
Sanding and finishing of fillers, stoppers, composite materials, soft woods, wood coatings, walls and dry wall 
Scuffing and rectifying clear coats 
Designed to fit on new Festool brand vacuum hole pattern backup pads, provides excellent dust extraction
Features and Benefits:
Highest initial cutting power and initial stock removal 
Special anti-clogging, no-load lubricant coating (150 to 600 grit)
Suitable for many applications and materials
High performance and provides good surface finish 
Grip backing for strong fastening
Compares To:
3M Red
Norton A296 Gold Reserve
Mirka Basecut
Product Specification:
D / C weight paper with grip backing 
Lubricant coating (150 to 600 grits)
Aluminum Oxide abrasive 
Modified synthetic resin bonding 
6" size solid discs
Sold 50 discs for 40 to 600 grits
69-17 Series
---
We Also Recommend
---