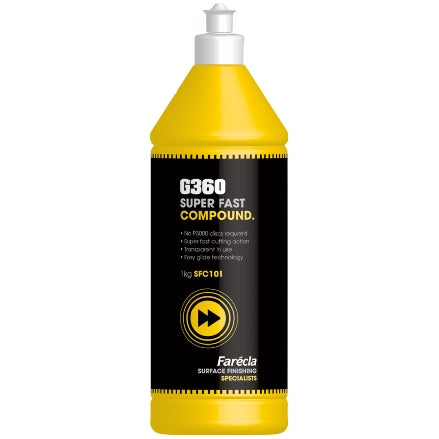 Farecla G360 Super Fast Compound, 1kg, 90600
Product Overview:
Farecla G360 Super Fast Compound 1kg (2.2lb) (90600 / SFC101) easily and quickly eliminates P1500 or finer sanding marks from all modern paint system without the need to use P3000 sanding discs saving time and money.
G360 is being hailed by body shops as a "game-changer" - because it is saving them so much time and money with its market-leading fast cut, plus there is no need for expensive P3000 sanding discs, when used in conjunction with appropriate buff pad.
Huge time and money savings, G360 not only eliminates the need for pre-sanding with P3000 abrasives discs but can cut and finish depending on buff pad used resulting in fewer products to complete a project. Only a small amount of material is required, allowing for use on as many as twice the number of parts as traditional compounds.
The compound is transparent allowing the operator to see scratch marks disappear permanently. Unique abrasive technology is water-based and contains no fillers or silicone resulting in permanent results, avoiding the chance of costly rework.
For best results, use with a compound Farecla G-Mop compounding foam or similar for removing all holograms and swirls and achieving a high gloss finish on light colors. For dark colors, follow with a Farecla G-Mop Finishing foam pad or similar to remove any fine swirls and to leave an enhanced gloss finish.
For darker colors, the operator may desire using Farecla G360 Super Fast Finish Polish with a G Mop finishing foam pad for the ultimate enhanced deep gloss wet look.
Water-based formula for easy clean up and safer working conditions.
Designed for use on Medium Solids (MS), High Solids (HS) and Ultra High Solids (UHS) paints and Scratch Resistant Clears.
Features and Benefits:
Super fast results on P1500 sanding marks, eliminating the need for expensive and time consuming P3000 abrasive discs
Permanently removes scratches, holograms and swirls and leaves a high gloss finish
Cuts and finishes depending on buff pad used requiring fewer products needed to complete a project
Only a small amount needed, allowing for use on as many as twice the parts as traditional compounds
Unique abrasive technology that contains no fillers or silicone resulting in permanent results, avoiding the chance of costly rework

Transparent, allows the operator to see scratch marks disappear permanently
Water-based formula for easy clean up and safer working conditions
Designed for use on Medium Solids (MS), High Solids (HS) and Ultra High Solids (UHS) paints and Scratch Resistant Clears

VIDEOS:
---
We Also Recommend
---