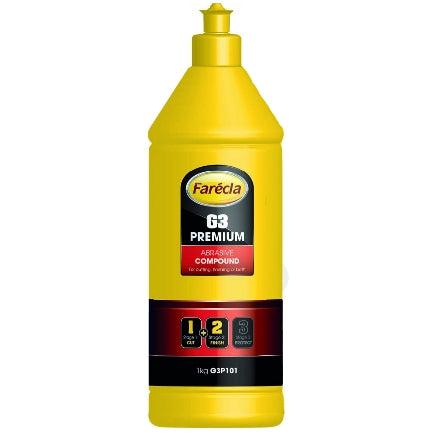 Farecla G3 Premium Abrasive Compound, 1L, G3P101
Product Overview:
Farecla G3 Premium Abrasive Compound 1kg (2.2lb) (G3P101 / 00146) is the only compound needed to permanently remove P1500 or finer sanding marks from all modern paint systems, while leaving a swirl free, high gloss finish with reduced product consumption.
In use, G3 Premium has a transparent film which allows the operator to see the work area when compounding. No delays in checking that the job is complete.
Perfect for use on MS paints, HS paints and UHS/scratch resistant clears.
For best results, compound using a Farecla G-Mop High Cut White Foam or Compounding Yellow Foam Pad. For dark colors, follow with a Farecla G-Mop Finishing Black Foam Pad to remove any swirls and holograms that might remain and leave an enhanced gloss finish.
Features and Benefits:
• Long lasting, powerful cut - High cutting power does not diminish over a short time resulting in the only compound you need to achieve the perfect nish
• Permanent results fast - No filllers, no silicone, no die-back, no reworks, removes P1500 scratch marks or finer PERMANENTLY
• Better Slip - No dragging, staining or hazing on fresh paints
• Clean in Use and Easy to Wipe Off - No dusting or splatter, exceptionally easy and quick to wipe off
• Safe for All Paint Types - A rare compound that can be used on all modern paint systems including the very latest energy or 'hyper' clear coats
HOW TO USE:
Step 1 CUT use with a G-Mop Compounding Yellow Foam Pad pad at ~1,500 rpm
Step 2 FINISH (if needed) repeat step with a G-Mop Finishing Black Foam Pad and a very small amount of product
Step 3 PROTECT with either G3 Glaze for fresh paint or G3 Liquid Wax for fully cured paint
VIDEOS:
FARECLA G3 PREMIUM ABRASIVE COMPOUND BY FARECLA, INC.
---
We Also Recommend
---