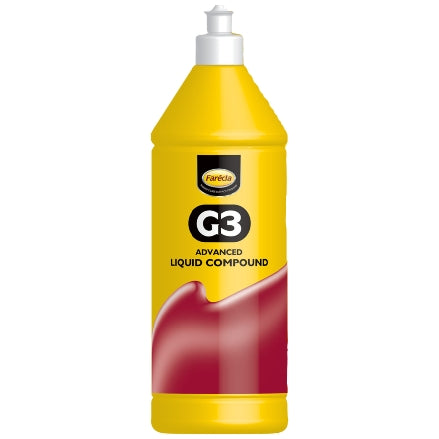 Farecla G3 Advanced Liquid Compound, 1L, 01009
Product Overview:
Farecla G3 Advanced Liquid Compound is a favorite for automobile reconditioners as it allows versatility, quality and speed to shine through in comparison with many other compounds. Quickly and easily removes P1500 or finer sanding scratches, permanently.

Farecla G3 Advanced Liquid is a one-step system that provides a fast cutting action and a high gloss finish. It combines all the reliability and other advantages of G3 Paste with a reduced clean up time when compounding by machine. It provides the user with improved versatility, quality and fast speed to final finish verses competitive products. 
G3 has been tested to work on all paint systems and is proven with paint company accreditation to be compliant and work well in any paint type.  Farecla has undertaken extensive product testing with manufacturers such as DuPont, Sherwin-Williams, Akzo Nobel, PPG, Standox, BASP, Spies Hecker, NAPA, Martin Senour Paints. 
Using the product with water will result in maximum performance benefits. 
Features and Benefits:
Quickly and easily removes P1500 or finer sanding scratches

Permanently removes swirls, wheel marks, and other imperfections - does not hide like traditional compounds
Can be used on all paint systems and endorsed by major paint companies
Water-based and silicone-free
Use with less water for optimal performance and reduced splatter, no masking required

Application for both machine or hand

Technical Data:
Appearance: White Colored
Viscosity: High Viscosity
VOC Content: 10.9% of Total Product
Relative Density: 1.47 g/l
pH: 8.6
Paint Type Compliance: Medium Solid (MS) and High Solid (HS)
Part Numbers: 01009 / AG3-1400 / 78072708715
---
We Also Recommend
---