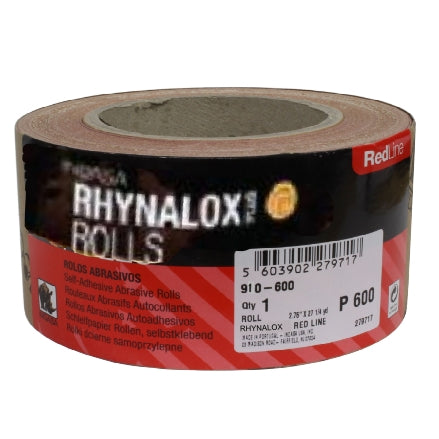 Indasa 2.75" RedLine Rhynolox Plain Back Sanding Rolls, 910 Series

Product Overview:
Indasa Rhynolox RedLine 2.75" Plain Back Sanding Rolls (910 Series) are designed for handing tools that do not require Grip or PSA backing.
The RedLine series is Indasa's premium abrasive line designed with the highest quality aluminum oxide mineral grains and a lubricant coating to resist clogging. The result is an abrasive system with extremely high cutting power, stock removal and very long working life time. 
Indasa RedLine is the perfect choice for use on hard materials such as metal, hard wood, and composites; also a great choice for applications where extra flexibility is required in finer grits.
Application Suggestions:
Sanding and finishing of fillers, stoppers and primers
Scuffing and rectifying clear coats
Sanding and finishing hard materials such as hard wood, metal, metal coatings and composite
For

 sanding blocks with clip ends that accept 2.75" wide plain back paper
Features and Benefits:
High cutting power, very high stock removal
Very long working life time and superior finish
Anti-static and dust-repellent
High performance on hard materials
Product Specification:
E / D weight plain back paper
Lubricant coating (grits 80P to 400P)
Aluminum Oxide abrasive
Modified synthetic resin bonding 
2.75" x

 

27.5 yd (82.5') plain back rolls
---
We Also Recommend
---