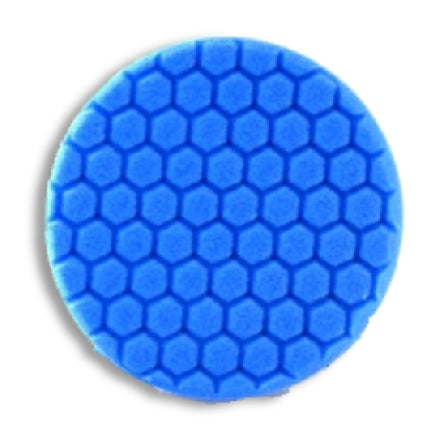 Buff and Shine 7.5" Center Ring Hex Face Foam, Blue Soft Polishing Pad, 650RH
Product Information:
Buff & Shine 7.5" Center Ring Blue Foam Hex Face Soft Polishing Grip Pad (650RH) are designed to minimize grabbing and dissipate heat allowing for better application efficiency of compound and polish. 
Recommended for rotary polishers and fits 6" size grip backing plates such as Buff and Shine 600Y and 658Y.
This pad is part of Buff and Shine's Center Ring Buffing System which features a plastic recessed edge that protects the backing plate from coming into contact with the buffed surface and centers the pad perfectly eliminating pad wobble.
The 650RH Blue Foam Hex Face pad is designed for soft polishing applications. Other style hex face pads available in a variety of degrees of aggressiveness, color coded for easy identification.
Sold 1 pad per package.
Features and Benefits:
Made with high quality US reticulated polyester foam for soft polishing applications

Recommended for rotary polishers

Hex face is designed to 

minimize grabbing and dissipate heat

Allows for better application efficiency of compound and polish

Plastic recessed edge that protects the backing plate from coming into contact with buffed surface and centers pad perfectly eliminating wobble

Protective recessed cup edge backing that helps prevent the backing plate from coming in contact with buffing surface

Velcro attachment for quick and easy removal

Color coded for easy identification

Made in the USA  
---
We Also Recommend
---